The messaging platform within TeamBuildr just got a huge revamp! With in-app messaging usage at an all time high and an increased focus on remote training, we rebuilt our messaging from the ground up and are excited for you to get your hands on the new "Conversations" page. Aside from a completely new look, here is what's new:
Real-Time Messaging
When you are on the Messaging page of the web app or mobile apps, you will now receive messages in real time - no more refreshing the page! You will also see a typing bubble when someone in the conversation is responding.
Photos, Videos & GIFs
You can now easily upload photos and videos into conversations from both the web and mobile apps! On top of that, you can quickly react with GIFs at the touch of a button.
Group vs. Individual Conversations (Web Only)
As a coach, when you create a new conversation you can choose if you want the recipients to be messaged together in a group or to send messages to each of them individually.
Scheduled Messages (Web Only)
As a coach, you now have the ability to schedule a message within a conversation to be sent at a later time.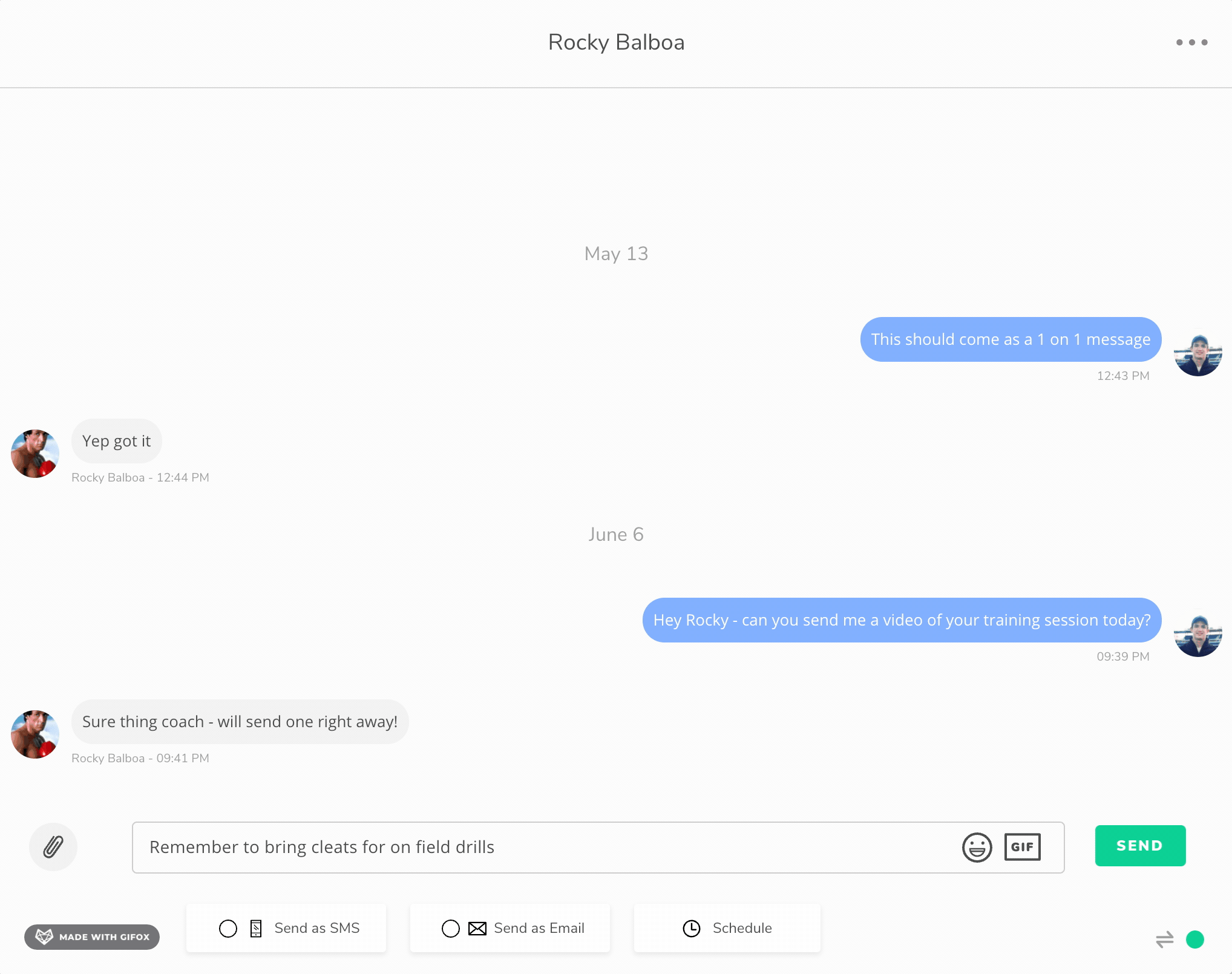 Read Only Conversations
If you want to send messages to a set of recipients, but do not want them to be able to reply, you can now set a conversation to be "Read Only". This will allow only coaches involved in the conversation to send messages and remove the ability to reply from the athletes.
Improved Email and SMS deliverability
Coaches have the option to send any message as a text and/or email - just check the "Send as Email" or "Send as SMS" box before sending! We have improved our SMS deliverability and now offer full international support. **Important: Make sure to have athletes select their Country Code in their profile settings if they are experiencing any SMS deliverability issues.